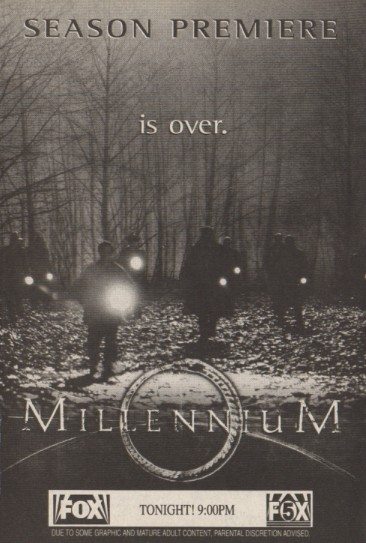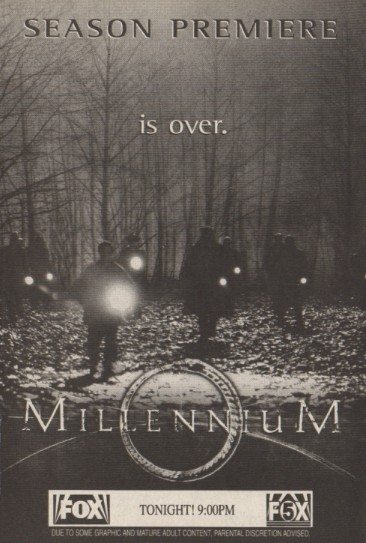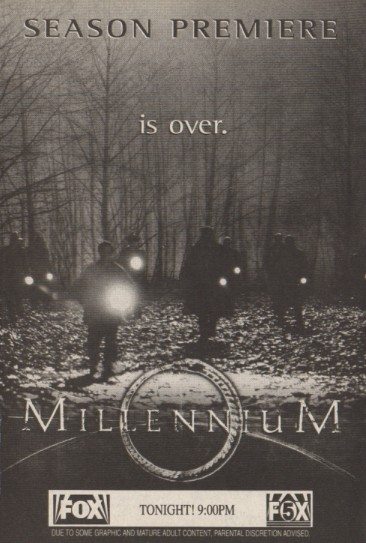 I've made several posts about "Millennium", Chris Carter's sophomore tv series after the X-Files that he sort of forgot about after the first season.  Its no secret that this series had a tremendous influence on me at a very crucial time in my life and set me on the path to where I am today!  Recently there's been some resurgence of interest in The X-Files with Kamail Nanjiani's excellent podcast series, The X-File Files, which I can't recommend enough even if you are new to the X-Files! But this has inspired me to really delve back into Millennium for my blog!
I loved the X-Files but for a variety of reasons, Millennium spoke to me on a very deep level and re-awakened my love of horror at a time when I had sort of moved away from it.  Hey Horror was in bad shape in the early to mid 90's and it really didn't take off again until a little movie called Scream came out.  But Millennium's look and ad campaign also really inspired me artistically and pushed me back into creating dark art and video again for the first time in years.
In the Summer of 1996 during the summer reruns on Fox, these very short and weird promo videos began airing.  Fast cuts of horrible things, quickly ending with the image of character actor Lance Henriksen frantically clawing at the ground and then it goes to black and a voice says "You Can't stop it" while the Millennium logo appears on the screen followed by a deep Bum, bump sound.  I was blown away by these promos! I couldn't believe how cool the imagery was and how dark and weird it seemed.  "From the creator of The X-Files" was the only tagline and that was all needed to sell me.
Finally on October 25th 1996 Millennium finally aired and it was shocking!
With this series of reviews I will be going into spoiler territory so if you have never watched Millennium I recommend watching the episode then reading my review.  You can find some of the series online on youtube or buy the box set following the link at the bottom of this article.  At the time I'm writing this there is no legal streaming of the series on Netflix, hulu or anywhere else.
October 25th, 1996 Millennium aired for the first time on Fox at 9PM.  I wasn't really prepared for how dark and gruesome this episode would be and neither was the majority of TV Viewers.  The episode opens during a heavy downpour in Seattle Washington where we follow a man into a rather sleazy looking strip club.  White Zombie's "More human than human" pounds on the soundtrack as the camera wanders the club giving us a voyeuristic view of some of the weird individuals that are enjoying the show.  One of the girls is getting ready to go home for the night when the manager comes to tell her she has a "Private" dance request.  She reluctantly agrees and we cut to the girl dancing in a private room.  There's a man sitting in the dark behind a glass booth watching.  "I want to watch you dance" he says.  He holds up a piece of paper against the glass written in French.  We start to see the flashes of what the man is seeing as he watches the woman dance.  The walls behind her oooze with blood. Flashes of knives and a struggle,  then as she dances blood starts to drip down from her head all over her body. The man in the booth struggles and sounds frustrated, his voice breaking as he says "I want to see you dance on the blood dimmed tide.."  He hangs his head and the titles come up.