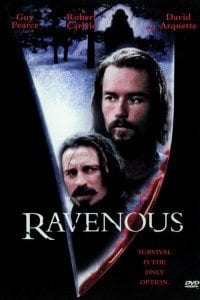 Ravenous was released way back in March of 1999 where no one saw it. Back in 99′ I was still in college and was working part time at a video store (remember those?). I'm not sure what inspired me to pick it up at work and watch it but I did and ever since its been a movie I tend to revisit every year or two.
The film takes place during the Mexican-American War (1846-1848) and is about a man named Boyd (Guy Pierce), a lowly coward who plays dead in the heat of a battle, gets his body dumped in a pile of corpses behind enemy lines and then takes out the commanders in the Mexican army. His CO General Slauson gives him a commendation but learns the reality of what Boyd did and decides he wants him as far away from his company as possible banishing him to Fort Spencer in the Sierra Nevada Mountain range.
At Fort Spencer we're introduced to a colorful set of characters that are hunkering down for a long winter before the settlers from the east start coming through in the Spring. Colonel Hart (Jeffry Jones) seems to know exactly the kind of person Boyd is from the start and assures him not much of anything happens at Fort Spencer. The peace is soon shattered however with the appearance of a haggard Scottish man named Colqhoun (Robert Carlyle) who tells the men of a damned wagon train that became snowbound in the mountains. For weeks stretching into months the party was stranded in a cave. They couldn't find any food and after eating their horses and cattle they succumbed to cannibalism. Colqhoun participated in the horrible act but insists that one of the men finally snapped and killed everyone remaining but he escaped to find help. Colqhoun leads Boyd, Colonel Hart and a small group of men to the cave where these horrors supposedly happened but soon they learn that Colqhoun is not who he claims to be.
Ravenous is sort of a horror film but the title of "Dark Comedy" better fits the film. It has moments of quirky characters doing funny things and the subject matter is at times taken with a knowing wink at the audience. The hero of the film is a coward that time and time again turns to run away instead of doing anything to stop what's happening on screen. He literally flings himself off a cliff to escape Colqhoun at one point which leads him to his own act of cannibalism.
The performances are great and at times brilliantly and darkly comedic. Robert Carlyle goes from careful and reserved to stark raving mad all in the same scene. Jeffrey Jones is basically feels like he's playing one of his characters from Tim Burtons 90's film output. Hell even David Arquette manages to play a 19th century stoner and somehow not feel out of place! This might be the first film I saw Guy Pierce in and he quickly became one of my favorite actors and still is.
The film had a terrible production starting with a director that left the film after just 3 weeks of filming. The studio then brought in Raja Gosnell to complete the film. You may know Gosnell from such crimes against humanity as Big Momma's House, The Smurfs, and Home Alone 3. Luckily the cast outright rejected this move and Robert Carlyle suggested bringing in Antonia Bird who was his business partner. Somehow she managed to complete the film and make something that was truly unique and interesting even with constant meddling by the studio. Its said that the final cut of the film was not what Bird wanted so I'd love to see a directors cut of this film one day.
The soundtrack should be mentioned simply due to the uniqueness of it. It has some very effective use of strings, noise, and animal sounds that often just loop over scenes in the film. The score is one of the elements that give the film its darkly comedic tone at times and at other times just gives the audience and unsettling or dreamy feeling. The main theme from the film is very memorable, yet simple and hard to label. Take listen:
httpv://youtu.be/2V-KLn_PgQg
The film has had very mixed reviews and it has an overall negative rating on Rotten Tomatoes but I think that's only because its not an easy movie to categorize and understand fully. Its not quite a horror film though there is plenty of blood, and its not completely a comedy or a drama. For me however it does a great job of balancing all these elements and delivering a weird little cannibal movie. I seem to find myself pulling Ravenous out this time of year when the cold days of winter are setting in. Its a great film for a winter night when its too damn cold to do anything else.
---