If you were a child in the 1980's or up through the mid 90's then you are familiar with the era of TV specials.  Back then most folks didn't have more than a handful of channels on their TV and the choices of what to watch were very limited.  The "Movie of the week" where a major hollywood movie finally premiered on a network TV station, was a big deal.  I remember watching many Big movies for the first time "edited for Television" on one of the three or four networks.  During the holidays we got TV specials, like Halloween cartoons or some type of documentary about ghosts.  They were usually pretty cheesy and rarely delivered any kind of real scare but they were all we had and we liked it!
Which brings us to the VHS Only release of the WNUF Halloween Special.  It's a "found footage" film by a collective of filmmakers. The tape is presented as a Halloween special from 1987 that aired on a small town news broadcast on October 31st.  The first 30 minutes is the 11 O'clock nightly news with the two anchors dressed in costumes and reporting on Halloween related stories including a dentist that was paying a 1$ for every pound of candy a child brought in the day after trick or treating in an attempt to get kids not to eat too much.  All during the news broadcast we're told "Stay Tuned" for a Halloween special that would air immediately after.
The special is hosted by Frank Stewart who is playing that "local Color" reporter that usually does fluff stories and consumer reports but tonight he's hosting the WNUF Halloween Special.  With the help of two phoney Paranormal investigators, Frank is taking us into the Terrifying and supposedly haunted Webber House!  The show has all the trappings of specials from that time period.  I was reminded strongly of Geraldo Rivera's special from the late 80's, where he opened Al Capone's vault that ended up being empty.  But he managed to milk an hour out of nothing at all which was common of these types of shows.  WNUF Halloween special follows a similar formula and drags out the action.  There's also a classic episode of Tales From the Crypt that had a similar storyline of a TV personality going into a supposedly haunted mansion with similar results.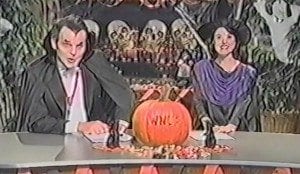 The film features a lot of commercial breaks with really great fake commercials for everything from arcades and pizza parlors to 1-900 numbers (A staple of late night 80's TV).  If you grew up with this kind of TV this film will give you chills over how accurate it is!  Its really amazing how much effort was put into making it all feel authentic.  The video quality looks like its a copy of a copy of a copy like whoever dubbed this copy did from a copy he got from somewhere else.  Again this is something that any child of the 80's would know about.  I applaud the filmmakers for the care that went into making this look like the real deal.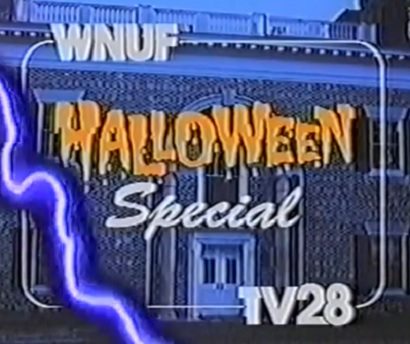 The Psychics of the special are clearly meant to be Ed and Lorraine Warren, two con artists that were a staple of reality TV in the 80's and they're portrayed to be total eccentric frauds right from the start.  Satanic panic also makes an appearance in the special when the host presents a piece on satanic ritual abuse, something that seemed to dominate the fears of adults back in the day.  The only problem I have with this movie is that it sort of degrades into a typical "found footage" movie towards the end but there's only so many ways you can end these things so I can't fault them too much for that.
Overall I have to give this one a 5 out of 5! It just hit all the right marks for me and made me very nostalgic for my childhood Halloweens!  You can get your own copy of the film from Alternative Cinema in Glorious VHS and enjoy a trip back in time to when a Halloween Specials and public access TV were king!
---