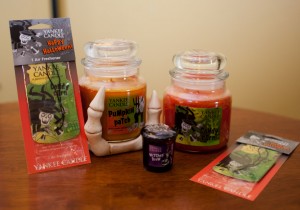 Just got my first shipment of Yankee Candle goodness today! The Halloween collection that Yankee puts out each year is a must buy for me. This year I tried not to over indulge and just got a few things. My favorite has always been the spiced pumpkin candle but it seems that its availability is pretty random. In fact I haven't found it in quite a few years, though I haven't looked that hard for it. But, this years "Pumpkin Patch" candle I'm happy to report is the good ol' Spiced pumpkin scent! Definitely my favorite of the bunch!
I wasn't sure about the Witch's Brew candle, so I only ordered a small one to try out. The scent is that of patchouli and it has a little bit of that earthy moss scent as well. I'm not a huge fan of it but I'm sure I'll put it to good use. "Candy Corn" is also a favorite and its hard not to like this sweet and delicious smelling candle. It just smells like trick or treat!
No year would be complete with out some additional display ware for you candles. This year I was a little dissapointed to see the decorative Halloween toppers of the last few years were missing. But the "Boney Bunch" skeletal hand holder just about makes up for that! This is one of the coolest jar holders they've ever done!
So there you have it. The Halloween Collection at Yankee Candle is available now so go buy it or click here for their website.
---