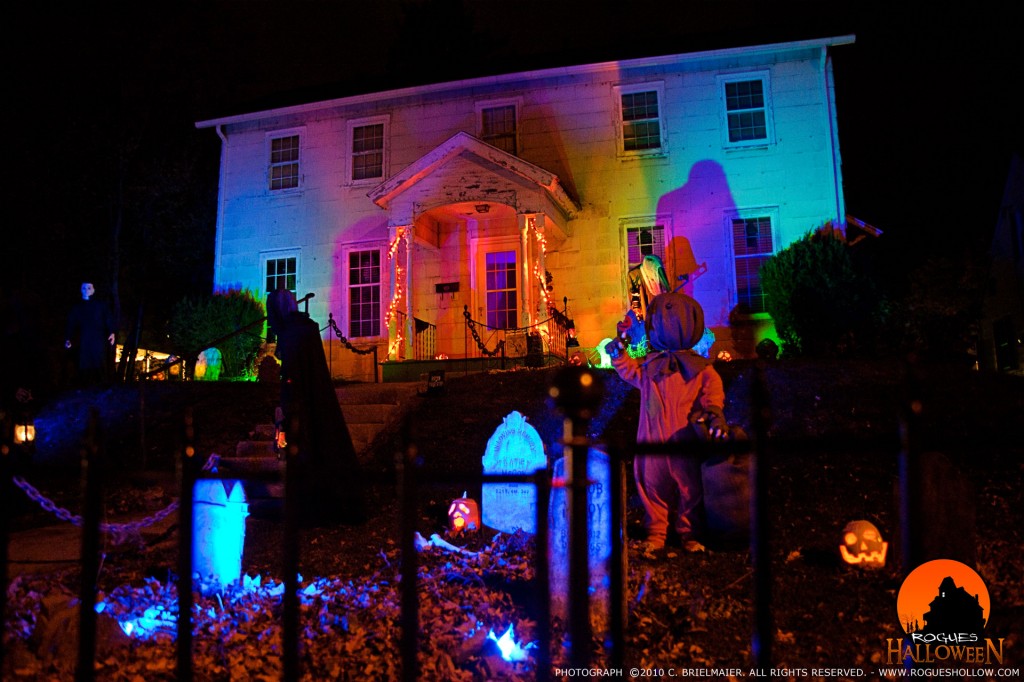 Tonight was the night and we gave it our all! The final yard display was looking pretty kick ass as you can see from the photo. Unfortunately I couldn't do the fog this year like I wanted. It was insanely windy all day and I would have been an exercise in futility to try to get my yard to fill with fog. Oh well, maybe next year. My new fence turned out to be a great addition to the yard. it kept the kids from walking through the display and it gave the house a spooky finishing touch I've never had before. Now I think I'll leave it up to spring and hope for it to rust a bit.
The bad news was we had less than half as many kids come this year. I'm not sure why, perhaps its the economy or just my street. Not many people seem to want to participate here. I'm seriously considering a newspaper ad next year and calling it "Nightmare on Broadway Street". Too much? Maybe, but I'm tired of not getting enough people and being left with too much candy after.
This was the first year where I had people taking their pictures in front of my house! There were several people getting there picture taken standing in front of the fence with the Sam from Trick r' Treat standing behind them in the yard. Pretty cool that people were digging it enough to take a photo!
Brian and Trisha from – were Awesome in getting me a Sam made just in time for Trick 'r Treat! You can see a photo of him standing in the yard below. That's a Beyond the Grave Michael Myers on the hill above. I have lots more photos on the way that I should finish Friday and a video I'm hoping to have done very soon as well. Stay Tuned and Happy Halloween!
---