I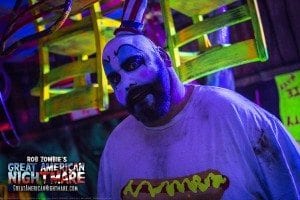 had the opportunity to fly out to Arizona for the opening weekend of Rob Zombie's Great American Nightmare Scottsdale in September.  For 2014 The Great American Nightmare expanded to two locations, One in Scottsdale AZ and one in Chicago IL, more on the Chicago location later in the week.  The Scottsdale location has 3 attractions including The Lords of Salem in Blackout, Captain Spaulding's Clown School, and the Devils Rejects.  The Lords of Salem Blackout is the only attraction that was also used last year in LA but its been update with a much better intro and a facade that looks like the apartment building from the film.  The Clown School is an all new 3D attraction that combines the crude humor of Captain Spaulding with amazing cutting edge 3D effects and props.
My favorite attraction however had to be the Devils Rejects.  This attraction follows the film closely and begins with a shootout between the Firefly clan and the cops while the queue line waits to get into the attraction.  The cops play out the scene just like in the movie complete with real cop cars, lights, pyrotechnic effects and smoke.  When the shootout starts all hell breaks looks and the crowd is stuck in the middle of this huge old rundown house and a bunch of 1970's style cops.  Its a pretty amazing scene and one of the coolest I've been witness to at any haunted house!
After that there's the firefly house where you run into Otis, Baby, Mother Firefly and Tiny.  Once you get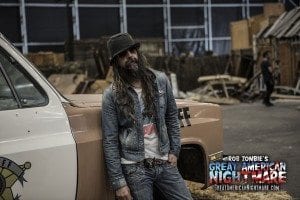 through the horrors of the house you'll end up at the motel from The Devils Rejects where you'll be shoved into a room and locked in there with some crazy motel guests!
If you're a Rob Zombie fan then you'll love this event!  Its like being in the movies and its pretty amazing to see the films recreated as attractions!  I honestly can't wait to see where these attractions go.  Its no secret now that Rob is working on a new film that was inspired by the haunted houses.  31 starts filming soon and I'm excited to see if it becomes an attraction in the future as well!
Lots More Photos from the event can be found on my Flickr album here!
---