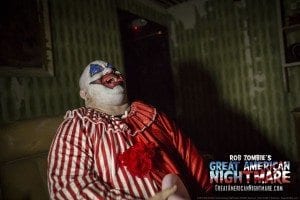 I've seen a lot of haunters losing their minds over haunts that they deem to be far too extreme.  They're offended that there's a haunt that's for adults only with intense sexuality and nudity.  They're put off that a haunt in New York actually involves the customer in the scenes and gives them a fairly terrifying or psychologically abusive experience. Their jumping on a band wagon to condemn a haunted house for using real serial killers in Chicago as part of their event.  Something that's been done over and over again in haunts all over the country for decades.
While I'm not sold on the more extreme haunts where people are literally tortured by actors, I'm all for them being in operation and out there.  Its not my cup of tea but obviously it is for some.  These are events that do lower numbers and have, no doubt, lots of legal waivers they make customers sign off on.  I'm not really offended by this but I can see how the public might be, however haunters should know better than to publicly denounce another haunt as offensive.
Its a the job of horror and haunted houses for that matter to push boundaries.  Haunts should take people to places they may find uncomfortable and scary.  That's the whole point right?  I'm pretty sure it is.  So what's wrong with making people uncomfortable with a guy dressed as John Wayne Gacy, or terrifying a customer by pulling them into the story and making them do something in order to get out? Is it in band taste? Hell yes!  It will offend some, thrill others, and scare the rest! This is what a haunted house can and should do if the owners are so inclined.  There's no rule that says all haunted houses have to be sensitive happy places.  There's plenty of room for both spicy haunts and mild ones.
"Haunts should take people to places they may find uncomfortable and scary.  That's the whole point right?"
The adult only haunts with nudity seem to be on the rise and you have to be an adult to go through it.  If I choose to go to something like this and pay my money for the ticket then I have a right to do so.  Just like the owners have a right to sell me the ticket.  Is it extreme and sleazy?  Sure it will be seen that way by many people but clearly that haunt is not trying to appeal to a broad audience and they won't have the kind of attendance a haunt that eschews these themes will.  They have to contend with the same issues as any haunt. Safety codes, fire codes, complaining neighbors, bad press, good press, and the like.  Will it take down the haunt industry? No I don't think so.
"Safety should be our top concern not content!"
Unfortunately 2014 reminded everyone the real danger is haunted events that don't take safety seriously and that's what can possibly take down the industry.  This year saw at least 3 people die in haunted hayride accidents and in all cases it was a lack of safety and oversight that caused these deaths.  No one should ever get hurt at a haunted event let alone die!  The industry as a whole should be far less concerned about what they find offensive about certain haunts and instead be concerned with making a concerted effort to make haunted houses safe!  This should be the goal of any and all haunted house associations.  They shouldn't be commenting on haunts they think are offensive. Instead they should be out there putting together some type of safety code to protect not only the customers but the haunted house owners and actors.   Safety should be our top concern not content!
I realize the states and cities are expected to make sure these haunts are up to code and I know that most are pretty tough  and expect a lot of safety protocols in place.  But there are still places out there that don't put safety first and clearly the haunt industry should be taking a stand together to do something about it!  This has been the biggest issue in the industry for as long as I have been involved in it and now is the time to get in front of it before it gets spun out of control by the media next season.  Lets make 2015 all about keeping customers safe so our industry has a long future ahead of it.
---