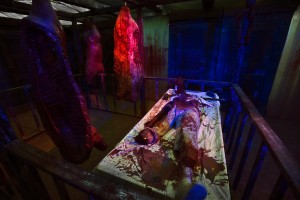 A couple weeks ago I was able to get out to Indy ScreamPark with my second unit video guy, AKA – of BeyondTheGraveProductions.com. We had a great time at this haunt, now in its second year and we it feels like a very polished haunted house experience. There's a total of 5 haunts all themed differently. Kurayami is a black out maze, Bedlam is a 3d "RAVE" maze, and Nachtmahr is a classic haunted house with slaughterhouse elements as well. But the best haunts were the outdoor mazes, The Backwoods, and my favorite Infected.
I've never been to a scary corn maze. They've always been too big, no sense of claustrophobia and the corn was always too short. Infected proved that I didn't know jack about corn mazes. Lets start with the corn that was nigh 10 feet tall and the paths cut through them were no wider than 4 or 5 feet across. This gave you the feeling of being in a confined place and with little lighting, it was hard to know where the next scare was coming from. But the part that sold me on it was when I came around an opening in the maze that where a 2 story farm house was sitting, with a lawn and everything, right there in the middle of a corn field. It was one of those scenes that make you feel like your in a horror movie. The theme of infected is a "Zombie outbreak" by way of the film The Crazies. You have infected people trying to eat you and non-infected but frantic military personnel that have been left behind and have no hope of surviving. Its one of the few events I've seen at any haunt that has a storyline that it keeps in sequence and alive throughout the haunt.
The backwoods was also one of my favorites. Its your typical hillbilly haunt but its all out in the woods, with no lights and there's a lot of old creaky shacks you have to go through in order to complete the trek. Its dark and its terrifying! After all the screaming there's also a midway that has fire pits, food, gifts, and beer sales. This is the kind of haunt that is a full evening out and time and money well spent.
I took lots of photos of the indoor attractions which you can see on my flickr account
---