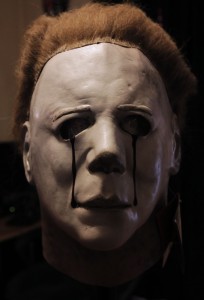 So yesterday I got my Halloween 2 Mask (with Blood Tears) from Trick Or Treat Studios. Right off the bat let me preface this by saying this is the best "Mass Produced" Michael Myers Mask I've personally have ever seen. I can't think of a more screen accurate mask that was officially licensed and sold the the public in mass like this before. With the possible exception of the "screen acurate" crappy Halloween 8 mask that looked nothing like the classic Myers we all know.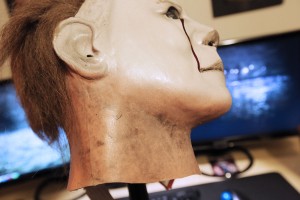 Ok that said, I am a Halloween Fan and I have some problems with this mask that I need to point out. The biggest problem for me is the paint scheme. For whatever reason Trick or Treat Studios decided to try to give it artificial shading as if a light was directly above it casting shadows below the neck and nose. So you can see in the photo to the right the and above the shadowing under the nose that's painted on. You can also see in the photo to the right that there's shadowing under the neck that's redish brown that I guess is supposed to resemble shadowing as well as blood? I'm not real sure why they thought it had to be painted this way. I'd much rather it just be a nice dirty overall paint job and then you can use your own dramatic lighting to make it look properly menacing, if that matters.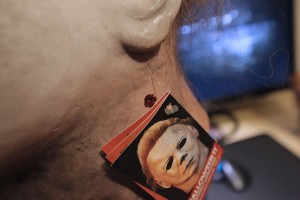 Thickness: The thickness is good, its not as thick as maybe something you would get from Death Studios or some other independent mask maker but this Halloween 2 mask has a good thickness for a production mask that should hold up just fine under normal use. Its not really a display piece thickness that will hold up well when hung on a mask stand so you will need to either pack it with foam or some other material to get the shape. The hair looks good on it and appears to me to match closely to the films. When you look at this mask in low lighting its pretty awesome which you can see in the first image in this post. It has the look and the sculpt was done with care and precision to make it look as accurate to screen as possible and it has one detail that really surprised me and that's a bloody spot where the hanger stabbed Michael in Halloween 1 when Jaime Lee was fighting him at the end of the film. It of course would have carried over to the H2 so it was a cool little detail. The mask is over sized which is to be expected from a production mask.
Final Thoughts: For $60 you can't really go wrong with this mask. Its affordable and it looks great hanging on the wall in my office. Its simply the best Halloween 2 mask that's been officially licensed and mass produced. While I'm not in love with the paint scheme on the mask its still a nice addition to my collection and I would recommend it to Halloween fans. Some More photos below!
---