I had the honor of going to a haunt I've always wanted to see for 15 years! The House of Shock in New Orleans has been one of those infamous haunts that has had more than its share of controversy due to its themes of Satanism.  Its also one of those haunts that's just as well known for its amazing sets and awesome stage show with pyrotechnics!  It was a real honor to get asked to come out and shoot some photos this year, their final year, for use on their site and promotions.  I have to say the show lives up to its legend!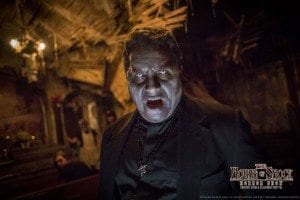 When you first visit the House of Shock you're treated to a stage show that is mind blowing! Its something out of the most intense heavy metal concert ever seen.  Lord Belial, the satanic priest comes out and talks about how the Antichrist was born at the House of Shock and now they're ready to take on God and bring about the apocalypse! Jesus shows up, nailed to a cross, and blows away the Antichrist and a televangelist preacher in a huge pyrotechnic explosion of fire and sparks!  It's just as crazy as it sounds and then some.  Its something that has to be seen to be believed and now that its in its final year your chance to go see it is quickly coming to an end!
The rooms are some of the most detailed I've ever seen in any haunt.  The Voodoo priestess house with its intricate statues, paintings, and ritual paraphernalia is awesome!  There's so much to take in and I was very glad I had time to shoot the haunt before it opened so I could document as much of it as I could.  But the photos don't do justice to what its like actually being in that room and experiencing it with all your senses.  The actors are intense and really into what they do!  Again its something you have to see to fully appreciate.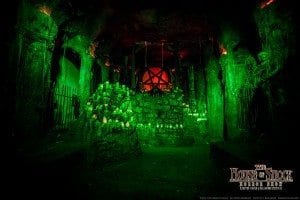 The Satanic themes are pretty heavy in the house and there's an amazing satanic temple room that just seems to explode into chaos when you walk into it and its all due to the amazing performances of the actors!  There's screaming chained up woman, a satanic priest preaching at you and of course the Antichrist himself watches you from above!
The House of Shock is one of the most unique experiences I've ever been to! It's a nightmarish trip through a dark vision of New Orleans fused with the underworld and its like nothing I've seen before!  Now that its ending I highly recommend you go see this haunt before its gone forever!
Visit House of Shock.com for details and tickets
To Check out more Photos from my trip please visit my Flickr album!
---