Let me preface this by saying, I don't get to watch everything that comes out and I know I missed a few horror films here and there so this is by no means and exhaustive list of the best horror of 2013. Its simply the best horror films I watched in 2013 in my opinion.
The Conjuring:
The expertly shot and paced ghost story that feels like a throwback to the way film was made in the 1970's.  James Wan dives into the story head first and sets us up in a world where demonic possession and malevolent spirits are real and out to hurt us.  The movie features great performances by Patrick Wilson, Vera Farmiga, and Lili Taylor, who finally makes up for her awful appearance in "The Haunting".  Masterfully crafted shots and scares abound in what is easily the new high bar for ghost stories.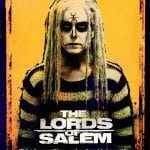 Lords of Salem:
While I've found Rob Zombie's early films to be entertaining, I didn't care for his Halloween remakes but he surprised the hell out of me with Lords of Salem.  A throwback to Satanic panic movies from the 1970's, Lords features some amazing imagery, bizarre set pieces, even crazier characters and a cthulhu-esque satan spawn being held lovingly by a nude Meg Foster.  What's not to love!  The acting, by no means perfect, is the best in a Zombie film so far and story actually feels well paced and manages to not indulge in the typical "trailer-trash" talk that so saturates his previous work.  It shows some real growth for Zombie as a filmmaker and I find myself actually getting excited about his next project!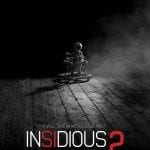 Insidious 2:
While I really liked the first Insidious, I didn't care that much for the "further" parts of the story with Patrick Wilson wandering around in a world of dead people and fighting a darth maul demon.  So when I heard that Insidious 2 would focus more on the "further" world I didn't get too excited.  But the film surprised me with how good it was and how bat-shit insane some of its sequences were.  It's a weird film with Patrick Wilson spending most of the film possessed and chewing up scenery like a mad man.  It also featured one of my favorite "Haunted House" set pieces ever!

Maniac
Maniac is what a remake should be.  The original 80's film is an interesting sleazy movie but I doubt anyone would classify it as a classic of the genre.  The remake takes the basic concept of the character of Frank and tells us his story through his eyes.  the entire film is shot from first person perspective and puts the audience in the head of a killer.  Elijah Wood stars as Frank, a character we only see when he looks into a mirror or has an "out of body" experience which happens a couple times in the film to punctuate what Frank is feeling.  Its a concept that sounds hokey at first but somehow ends up making a run of the mill serial killer movie into something far more interesting.  Plus the 80's style synth soundtrack by French composer, ROB, is easily the best of the year!
Antiviral
I'm a big fan of David Cronenberg's early films when he was at his weirdest.  Now his son, Brandon Cronenberg, appears to have picked up the torch and is running with it!  Antiviral is his full length film debut and its a doozy.  It introduces us to a world where society has become so obsessed with celebrity that people pay to get infected with the same colds, flus, and diseases that that their favorite film star has.  The film follows a employee at one of the companies that sells these maladies who infects himself with a virus that ends up killing the celebrity it came from and he has to find a cure before his time runs out. its a very bizarre film that shines a very bright light on our culture's obsession with celebrities.  I'm excited to follow the career of Brandon Cronenberg and see what strange places he takes us next!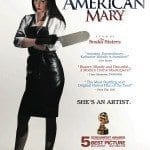 American Mary
What a surprise this movie was!  The Soska twins take us into the strange world of extreme body modification in this twisted story.  Mary (Katherine Isabelle) is a medical student who gets raped by one of her professors.   Traumatized by the incident, she drops out of school and begins working in the world of underground surgery where she comes across some very strange characters with even stranger desires for their body.  The movie stumbles a bit here and there but overall its a fascinating little film by two promising female voices in cinema.
V/H/S/ 2
I liked the first V/H/S but it didn't "wow" me.  So I walked into the sequel with some apprehension.  A couple of the stories, including the wraparound are complete and total misses.  They just suck.  But the first person zombie short, "A Ride in the Park" was clever and funny, then there was the awesome "Safe Harbor" story about a film crew documenting a cult that is preparing for something very big and scary that happens that day.  It's a creative, fast paced and action filled sequence that makes the move so worth seeing.  The film closes with Jason Eisner's (Hobo with a shotgun) entry into the film "Slumber Party Alien Abduction" which feels like a bit of a throwback to movies like "the Goonies" but with far more foul language and aliens.
Resolution
For a movie with a cover that looks like your typical "torture porn" dreck, Resolution cannot be judged by its cover.  The film is a slow burn supernatural tale that takes place while a man tries to detox his best friend from his drug habit.  As the film progresses, stranger things begin to happen and both men begin to question their sanity.
---