T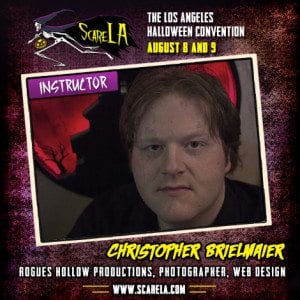 his August I'm flying out to Los Angeles for ScareLA!  Scare LA is a growing Halloween convention that boasts some fairly big names and guests and I'm pleased to announce I'll be giving my first Haunt Photography Seminar at the convention!
Here's the Details:
Sunday August 9 @ 11AM
Chris Brielmaier of Rogues Hollow Productions takes you through the basics of shooting photos of haunted attractions. Learn how it's different than studio or daytime photography and how to adapt and create amazing low light photos of dark scenes and scary monsters!
This will be the first class I've given in a few years but it should be a fun and informative one if your interested in learning more about how I shoot my haunted house photos.  However you should act quickly! I'm told my class is filling up fast!  Visit  Scare LA for More info and to book the class!
---