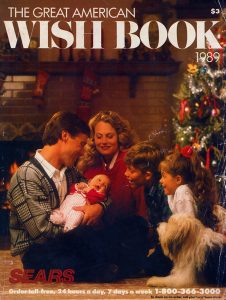 For our end of the year sale for 2022 I decided to do something that reminded me of my childhood Christmases.  Each year you could count on Sears having this big Christmas Catalog they called "The Great American Wish Book".  For kids this thing was like the holy grail of the holidays! It had everything in it! Toys, video games, bicycles, and lots more! It was basically everything Sears was offering for sale during the Holiday season.  No matter what you were looking for, you could find it here.  Men and women fashion, camping gear, games, recreation and sporting goods, housewares, and the list goes on.  Whatever type of gift you needed you could probably find it in the Wish Book.
So as a kid growing up in the 80's and 90's this Wish Book was highly anticipated, and I can remember many times using that book to make up my wish list for Christmas.  Ah the memories of seeing the latest toys that I wanted so badly! Teenage Mutant Ninja Turtles, Thundercats, Madballs, Masters of the Universe and Sectaurs!  Not to mention all the latest video games for Nintendo, Sega Genesis and Super Nintendo!
Of course, Sears is no longer around, and you can find everything you need for your Holiday online.  So, here we are in 2022 and I wanted to pay homage to that wonderful catalog by creating my own Macabre take on the Wish Book cover for my End of the Year Sale.  If you feel so inclined, you can download a high Resolution version of the image below.
---