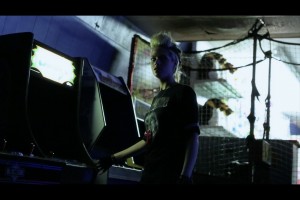 I've long been a fan of 70's and 80's Italian "Giallo" films. Filmmakers like Maria Bava, Dario Argento, and Lucio Fulci made these films where the killer was always portrayed as just a leather gloved, trench coated man whose identity stayed a secret until the final moments of the film. Usually we were shown the killers Point of View as he murdered his victims! Movies like the beautifully shot "Opera" and "Tenebre" truly fit the mold of "Giallo" where artistic flair and cool shots trump story. In fact the victims practically offered themselves up to the killer and barely fought back. The dialogue was always dubbed in and often made no sense but I still loved the movies.
So for our next film project we decided on to do a homage to 80's Giallo films. We found a great location, Playland Bonkers! in Flint Michigan which has a great old school arcade that hasn't changed much since the 80's. We found a great actress that looked the part perfectly and we were able to get our friend Jon Shroyer, a professional make up F/X wizard, to help out with the blood and gore effects. We have most of this film completed with just one major scene to go and we're hoping to release it in October/November of this year.
We've been extremely happy with the footage we've shot so far. You can see a screen shot from the video above. This is the first project we've been shooting entirely on the Canon 5D Mark III and Its been amazing! In fact I've gone from liking the camera to absolutely loving it! We were able to shoot in available light like never before. Its almost whatever your eye sees is what the camera sees. Its been a great film making tool! Highly recommended!
I'll post updates on our Giallo project as it develops! Stay tuned!
---