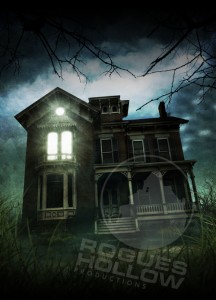 From time to time I make concepts for haunts that don't get accepted and those concepts usually get scrapped or modified. Hey, it happens! The artwork to the left was made for a haunt last summer but it wasn't what the client wanted so it was scrapped. This week I went back and looked at this concept again and really liked it! In fact its one of my favorites from the last year. So instead of scrapping it I'm doing a special discounted package for this piece of art that will go to the first haunt that contacts me about it. The art is ready to go all we have to do yet is make the site template and flash header. This Special Brain Chomping Zombie Package includes the following:
– Full lifetime license on the Haunted house artwork pictured
– Creation of logo for your event or we'll add your pre-existing logo to the artwork
– Flash enhanced website with animated flash header using the artwork and logo
– Full website with up to 9 pages of content
– Mobile version of site
– 1 year of web hosting
– Flyer, coupon, ticket designs with up to 1 more designs based on licensed artwork or artwork you provide.
– Service and support ending 11/30/2012*
This package is our popular Brain Chomping Zombie package and normally costs $2100 but this ready to go package with the artwork pictured is being offered at just $1500.00! That's $600.00 off!!
The package is being sold as is with all the features listed and the artwork pictured and that's not negotiable. If you're a first year event then this package will give you everything you need to make a big impression this year and save some big bucks in the process. HOWEVER You need to act fast because I only have one of these packages and once its gone, its gone. I don't resell artwork to separate markets like some of my competitors! This artwork will be yours and yours only if you purchase this package! CALL ME NOW AT 614-408-3137 or email me here!
Give this Art a Home and act now!
---