by Christopher on Feb.07, 2011, under Uncategorized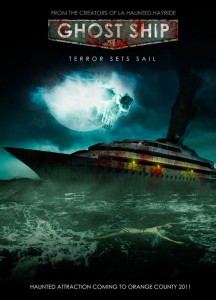 Yep I'm already busy working on new artwork for the 2011 Haunt season! I just finished up the artwork for a new Attraction in Orange County California called "Ghost Ship". Its rare I get to do a nautical themed piece of art so this was a treat. I did my best to avoid doing the typical skull on the front of the ship that's been used on multiple haunted ship movies. I was also limited on the type of ship I could use; it had to be a luxury passenger ship. Finally they client wanted a 1930's feel to it as well so after playing bioshock for awhile I settled on a very bioshock inspired logo.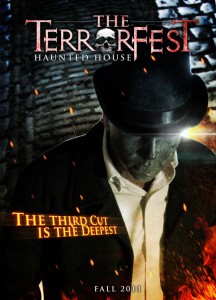 The next poster is for The TerrorFest Haunted House located in Columbus Ohio. This one has been a favorite of mine since it began. I had a major role it the development of the story in addition to the artwork. The butcher character is played by my father in both the videos we have shot as well as every poster. In this one we wanted to go more cinematic than before and since posters featuring lots of fire and sparks seem to be all the rage right now I thought, "why not?".