by Christopher on Jan.26, 2012, under horror movies, Retro Horror Movies, Slasher Movies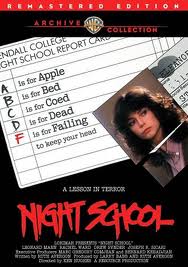 I'm a huge fan of 70's and 80's horror movies and I still run across the occasional retro flick I haven't seen. Recently I came upon a great forgotten slasher gem called Night School starring the very beautiful Rachel Ward. Someone is beheading women and leaving their heads in some strange places. A detective assigned to the case soon finds a link between the victims, they all attended night school at a local girls college. Suspicion falls upon a college professor who apparently spends all his spare time having affairs with as many students as possible. He's also diddling his research assistant played by Rachel Ward. The story takes some twists and turns and has some amazing kill scenes. You'll probably see the twist ending coming long before its revealed but its still well worth your time.

The film was the last film directed by Ken Hughes who directed the Disney flick Chitty Chitty Bang Bang and the Spoof James Bond film titled Casino Royale back in the 1960's! However Hughes turns in a slasher movie that's entertaining and stylistic but a little light on blood and gore scenes. Sorry gorehounds. I think A lot of people today think a good slasher movie is just having a good killer but that's far from the case. It takes great cinematography, interesting locations and decent acting to make a good slasher film and Night School delivers on all these points! Night School has been released for the first time on DVD from Warner Brothers Archive collection. These are the DVD's that are made when they're ordered and not mass produced. Its interesting that this film hasn't gotten more attention since it's one of the better Slasher films from the period. I recommend it highly to any slasher aficionados like myself.