by Christopher on Jul.26, 2010, under horror movies, nightmare on elm street, Retro Horror Movies, Slasher Movies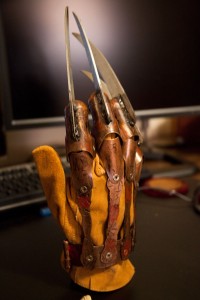 It would seem I'm in the minority of those who enjoyed the Nightmare on Elm Street remake, oh well. So shortly after I saw the movie I ordered one of the Neca Freddy Gloves based on the remake. The photos of the glove looked Awesome! But I was wary after purchasing a Glove from Rubies a few years back that was one of the worst I'd ever seen. After 3 long months I finally received the glove today. I have to say as far as mass produced gloves go this one is pretty amazing! For about 60 bucks you can have a glove that is highly detailed and very imposing. Unlike previous gloves I've seen mass produced this one has a lot of attention to detail. It looks weathered and distressed and even home made. The base of the glove has the big wrap around metal piece that when latched keeps the glove firmly in place on your hand. Good luck getting this off and on quickly by yourself, its nigh impossible.
The size of the glove surprised me a bit. on the outside it looks huge and even on my hand it looks pretty big. However the fit is snug and seems like it would be very uncomfortable or even unwearable for someone with larger hands than my own. I'd heard that they had to make this production model larger since the film glove was made to fit Jackie Early Haley's dainty little hands. Speaking of wearing the glove, it is definitely a different beast than the original glove. I'd go so far as to say its uncomfortable, at least until you get used to it. If I have a legitimate complaint about the piece its that the actual glove that comes with it is too light in color and clean looking when compared to the metal parts. I think I'll be doing something to make it look dirtier or change it completely.
For a comparison I placed the new glove next to the one I made myself some 10 years ago that I keep in my office.